Error: Unable to export
From Audacity Development Manual
This is landing page for esoteric Export failure messages.
You probably arrived at this page because you saw an error message like this one: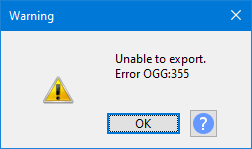 | | |
| --- | --- |
| | Some of these errors may have an underlying cause of disk full, so you may want to check your disk space and read Error: Disk full or not writable for guidance. |

If the problem is not simply a 'disk full' problem, please report the error code (here 'OGG:355') on the Audacity Forum say how it happened. It might be something unusual about something you are trying to export, for example badly formed tags. The error code may give us some clues as to what is going on.